I never wanted to be a writer. An actor and director, yes, even a production designer, but never a writer. I came to the United States to study filmmaking but was encouraged by the counselor at Los Angeles City College to apply to AFI as a production design major after he looked at my portfolio.
I applied and was accepted by AFI but was unable to attend due to my not winning their scholarship. So, I decided to study acting. I did a few independent films, shorts, and plays and was part of Ben Guillory and Danny Glover's Robey Theatre Company's three NAACP Theatre Award-winning play, "For the Love of Freedom: Toussaint (the Soul)," directed by Ben Guillory.
I finished the acting program and went back to film school. Everything was going well until 2003, when I was placed in a two-year wrongful deportation proceeding due to my being born in Pakistan. All my papers were in order. My case which should have been terminated within a week, lasted year, and half.
During that time, I was no longer permitted to attend film school and work. After the INS tried unsuccessfully for eighteen months to find fault in my case, the judge finally had enough and terminated my case. Still, for another six months there was the possibility of an appeal the termination. So, I had to just wait.
During the whole deportation proceeding time, I began to have "visions," if you want to call them that. In other words, I was going looney, and to deal with this horrible, stressful reality, I started to imagine scenes, etc. And after six months of ignoring these "visions," I started to write them down. And these scenes became my very first spec script: "Lethal Weapon 5."
Since then, I have written six more feature-length projects, a TV spec and ten short films. Eight of which I directed. 
No, I don't own the rights to the "Lethal Weapon" franchise, and no one asked me to write it. But writing this script and making some of my short films during that time gave me strength while I was fearful of being sent back for no reason other than that I was born in Pakistan.
So, here I am, now also a writer.
And the fun part is that about a year ago I found out that in 2012 the higher-level immigration officer who put me on wrongful deportation proceedings was sentenced to 24 months in prison for obstruction of justice and fraud. (He did other shady stuff also).
NO, YOU CANNOT MAKE THIS SHIT UP!!!!
My short film "Dateman" was an official selection of 14 festivals all around the globe. The two other short films, "Faceless" and "Happy Valentine's Day" were the official selection of "Damah Film Festival". And "Love Hurts" was my entry for the Producers Guild of America's Weekend Short Film Contest honoring (late) Debra Hill. "Dateman" and "till death do us part" short films were screened by MPTF (Motion Picture and Television Fund) on their Creative Chaos Channel. The cast and crew were also interviewed after the screening.
Please click on the posters to watch the short films.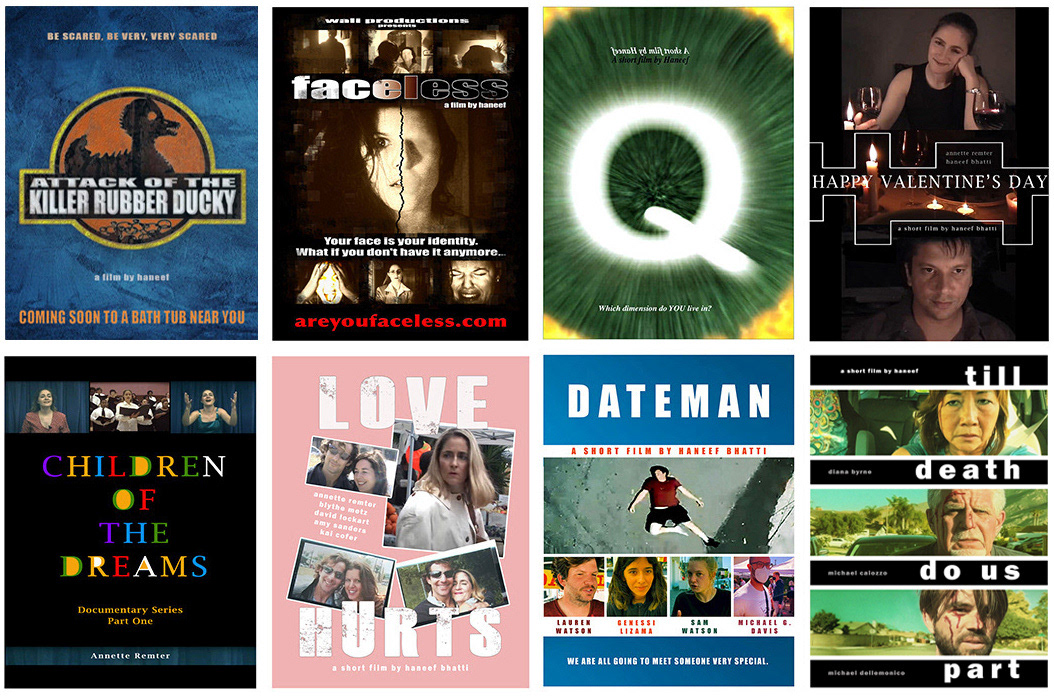 MY FEATURE SPEC SCRIPTS​​​​​​​
Click on the photos below.
(No scripts are posted on this website, only title Artworks)
More info about the projects upon request.
COPYRIGHT © 2000-2023 HANEEF BHATTI - ALL RIGHTS RESERVED​​​​​​​